Network Marketing Online,
Know This Before You Begin
Before we go into network marketing online and what to do to build relationships with leads now, let us revisit history for a moment.
Previously, the way you use to be able to get people into your marketing pipeline went a little something like this: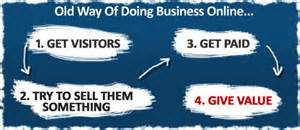 OR
Advertising > Lead Capture Page > Selling through Education > Front End Retail Product (a book or product under $50) > Back End Products > Residuals
This type of funneling was great when there were very few "network marketing gurus" online that had a healthy amount of money to spend in advertising through pay-per-click, PPC, and other paid sources to get people to their sites.
Advertising this way was how you made it big in this business if you had more money than time and/or you had the advertising dollar to spend.
This business model was extremely relevant when Google's rules where relaxed and everyone had a fair chance at advertising through PPC.
Those that could afford to advertise on Google, had the ability to choose how much you could afford to spend to get people to your site.
But, the major downfall for PPC is the fact that not only did you have to pay whether someone bought on your site or not, if you couldn't afford the top position on Google, you were just flushing money down the toilet.
Not to mention that if you were advertising in a highly competitive keyword, you were looking to pay upwards of over $20, I have seen some over $100, just for people to visit your network marketing online site.
And if you didn't have the over $20 per visit, then you were stuck with keywords that not many people were searching for, which dampens your odds even further for not getting your money's worth through PPC.
With advertising you have to pay to play.
There also was a way to get leads if you were the type of marketer that had more time than money. Or not so much as more time, but you could build on the time that you could set aside to build your business.
The old way of building a network marketing online business also told you that if you didn't have the money for PPC, just write articles and press release and submit them to directories and other content websites.
Then there was the process of having to take even more time out of your already tight schedule, sign up on all those sites, write your search engine optimized article.
Oh, and don't forget to buy article spinning software so that that same article doesn't read the same as to not spam the internet with duplicate content, submit your articles to the dozens of article sites, one by one. 
And do this over and over and over and over again for each article.
And then sit around in hopes that the traffic pours in from someone seeing your article from over the thousands of other people writing about the same topic on one of these thousands of article content sites.
And even with doing all of that, the problem still remains that you are putting content on another person's website only to build traffic for them in hopes that a little will trickle down to you and your site.
You were in essence building their business for them by providing their site with your useful and relevant information.
How crazy does that sound to you? You are writing for their site to make money from adverting  by capitalizing on your information and all of your hard work. All with the hopes that they MIGHT send a little traffic your way.
Don't get me wrong, these sites are wonderful if you are trying to build a brand by getting your name out into cyberspace.
But to use this as the sole means, is selling yourself short because of all the lost opportunities that you give away that you can be capitalizing on with your own content site. MORE on that later.
So what do you do to build a profitable network marketing online business? You brand yourself by creating "Me.com".
Let's take look at branding; what it is, how to use it to build relationships, and what it can do for you?>>>>
Related Articles:
---
Network Marketing Online > Home
If you think that this article could be of value to your followers, would you care to share?